Kynance Cove. Credit: Matt Jessop / visitcornwall.com.
A Local's Guide to Cornwall

There should be a word for the thrill you get deep down in the pit of your stomach when you know you're approaching the sea yet can't yet glimpse it. It's a feel you'll get nearing the coast of Cornwall – England's Atlantic-pointing finger – where cosy coves, quaint fishermen's cottages, and hidden histories thunder as loud as waves. Tom and Teddy togs in tow, come with us on its 330-mile coastline, and from seaglass and smuggler seeking, to secret swims and shanties, feast your seaside senses on our pick of family beach adventures – X marks the spot.  
Family fun times on the South Coast of Cornwall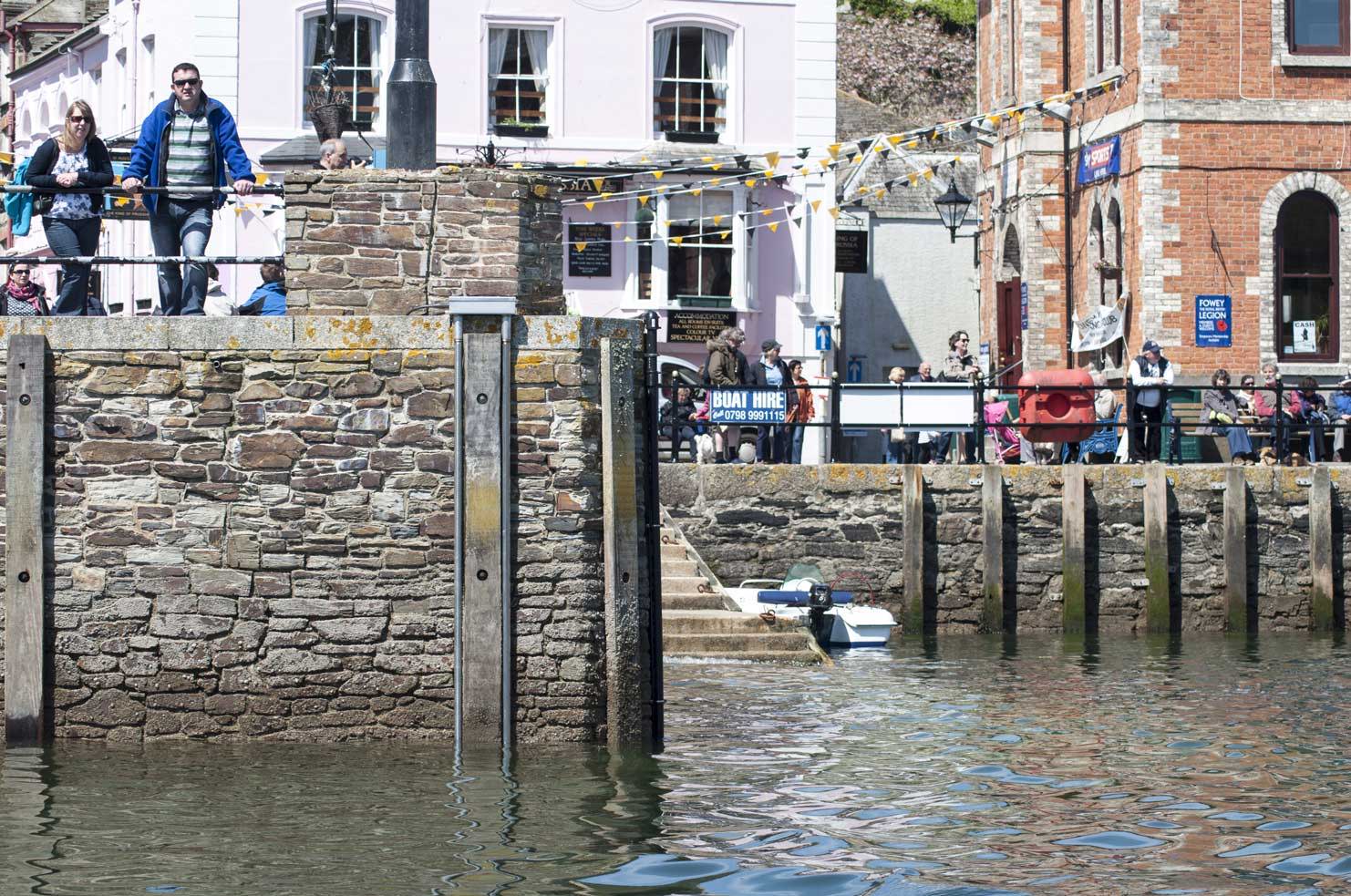 Fowey. Credit: Barnacle and Bird Photography.
If there's a formula for the perfect family day on the coast of Cornwall, then Looe has it: crabbing on the Millpool wall, hunting down century-old shipwrecks, and peering into seaweedy rockpools at Hannafore Bay – you'll find squat lobsters and cushion stars if you're lucky. Make the most of the chance to hop on to south Cornwall's river ferries such as the quick Bodinnick to Fowey (pronounced Foy, like Boy) delivering you to this charming town of boutiques, cascading cottages and the evocatively named Readymoney Cove. Where the river meets the sea and in the shadow of a fortress, it's the stuff of children's books.
And why not take every opportunity to chat to the little ones about how to visit Cornwall responsibly. That could be on Pentewan Beach, where – unlike shells or pebbles – you're free to pop treasure-like seaglass in your pocket; or you could aim to buy as much of your food as possible from local suppliers (make that a Barnecutt's – officially Cornwall's Best Pasty!); and walk where possible to access beaches and coves. Embark on a short walk on the Cornish coast path to the Hidden Hut at Porthcurnick Beach. What better reward than proper homemade cakes?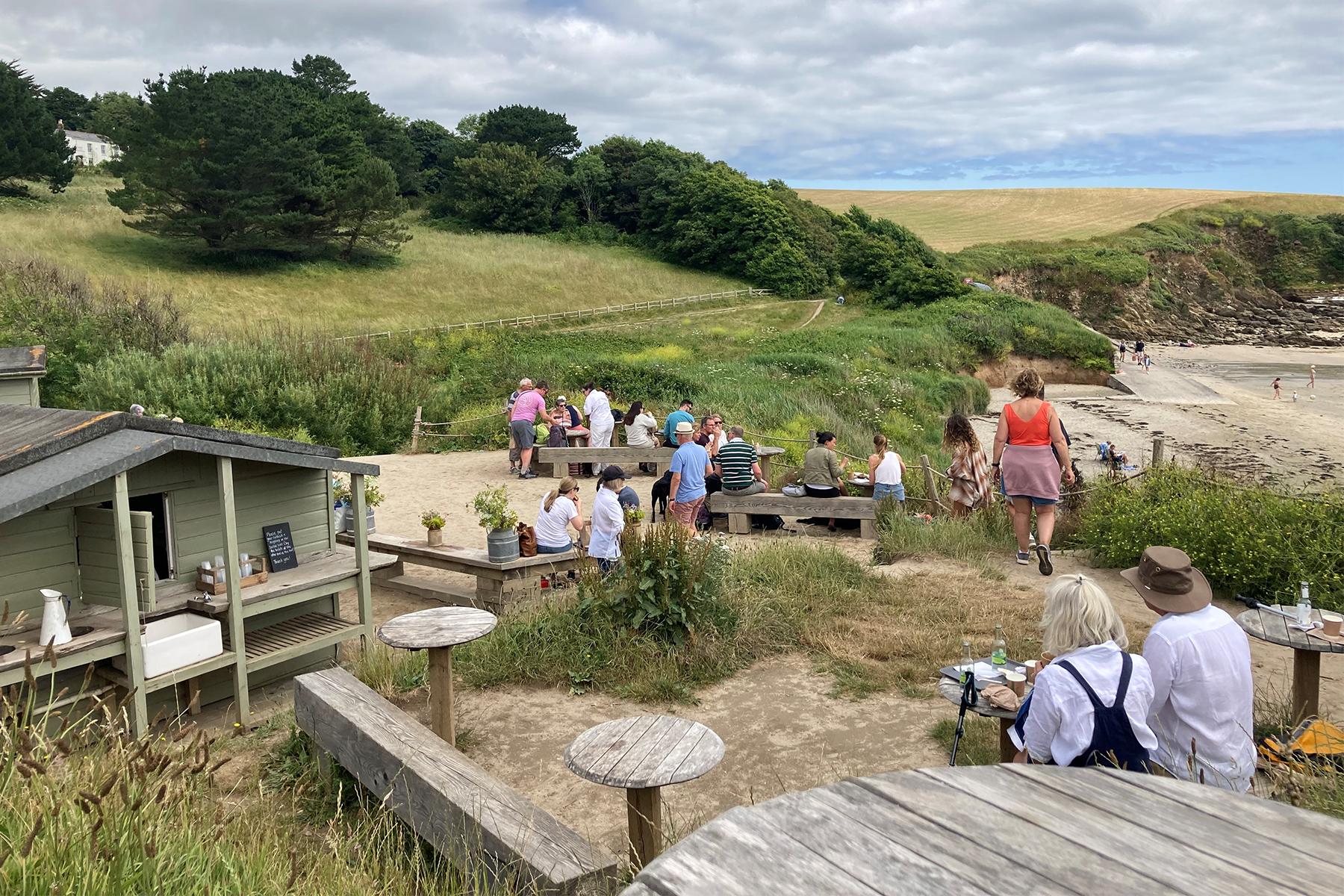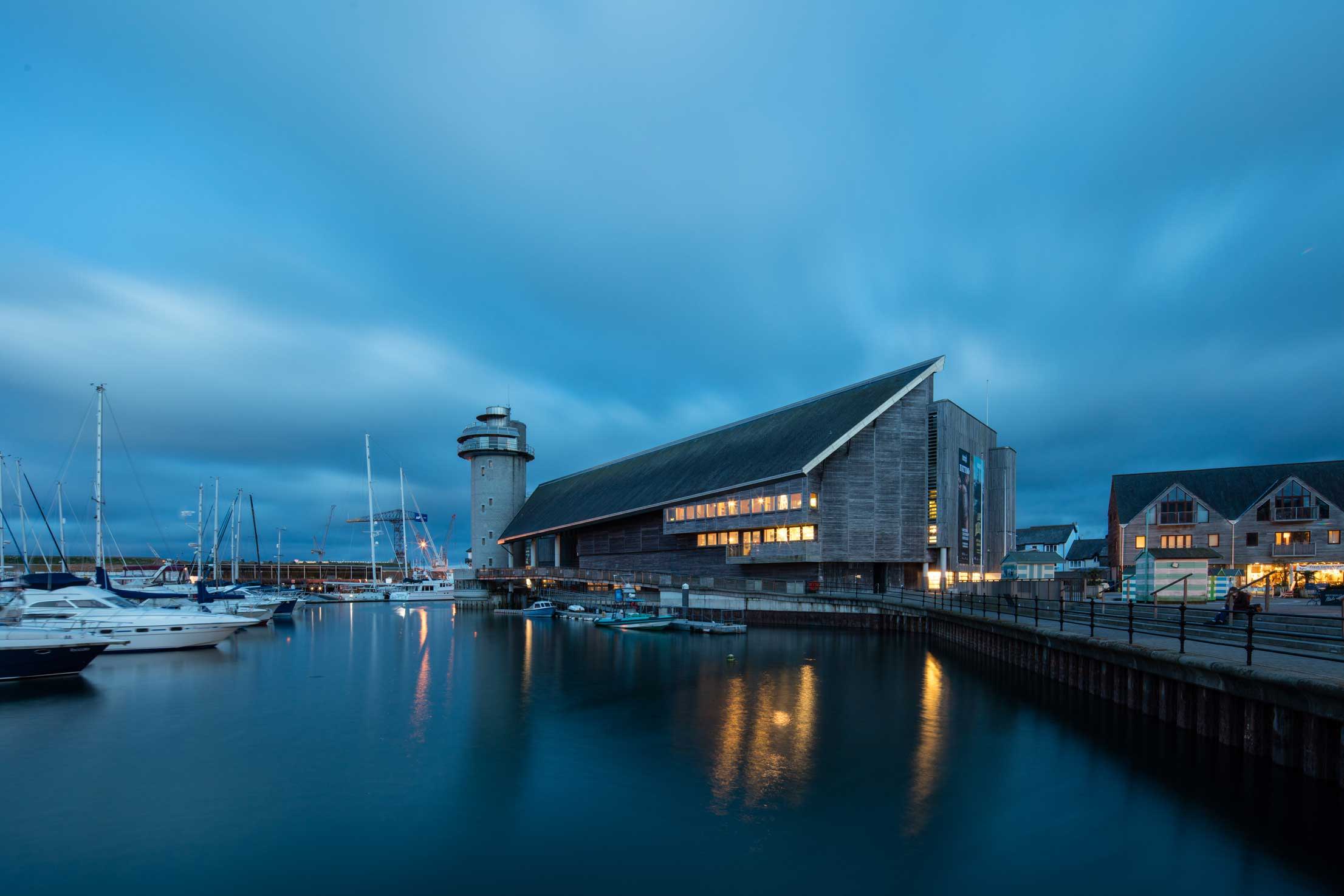 Falmouth National Maritime Museum. Credit: Luke Hayes
Rain doesn't stop play in Cornwall; run for cover in Falmouth's National Maritime Museum, a treasure trove of stormy seafaring stories – all true. Sun out again? Follow the locals to Gyllynvase Beach ("Gylly") where a cheeky cappuccino or roast-on-the-coast awaits at the sandy café.
West Cornwall steals the show
The very best pleasures are the simple ones, proof of which is at gorgeous Kynance Cove on the Lizard Peninsula where clear seawater, a small alcove of sand, caves, rock stacks and a café provide the day's entertainment. If you can't get enough of coves there's another named Prussia, its sense of seclusion the reason it was a smugglers' spot in centuries gone by, cart tracks still visible in the rocks. Your all-day swimmers continue to come in handy at St Michael's Mount, the fairytale island rising out of the seas at Marazion: while everyone else resorts to rolling up their trousers, you can hop over the causeway cobbles that are slowly being gobbled up by the tide. And over the bay? That's bustling Penzance, where despite first glances telling you it's not a swimming spot, the tide-savvy locals at Battery Rocks and the Abbey Basin know better – and there's a beachfront lido too 😉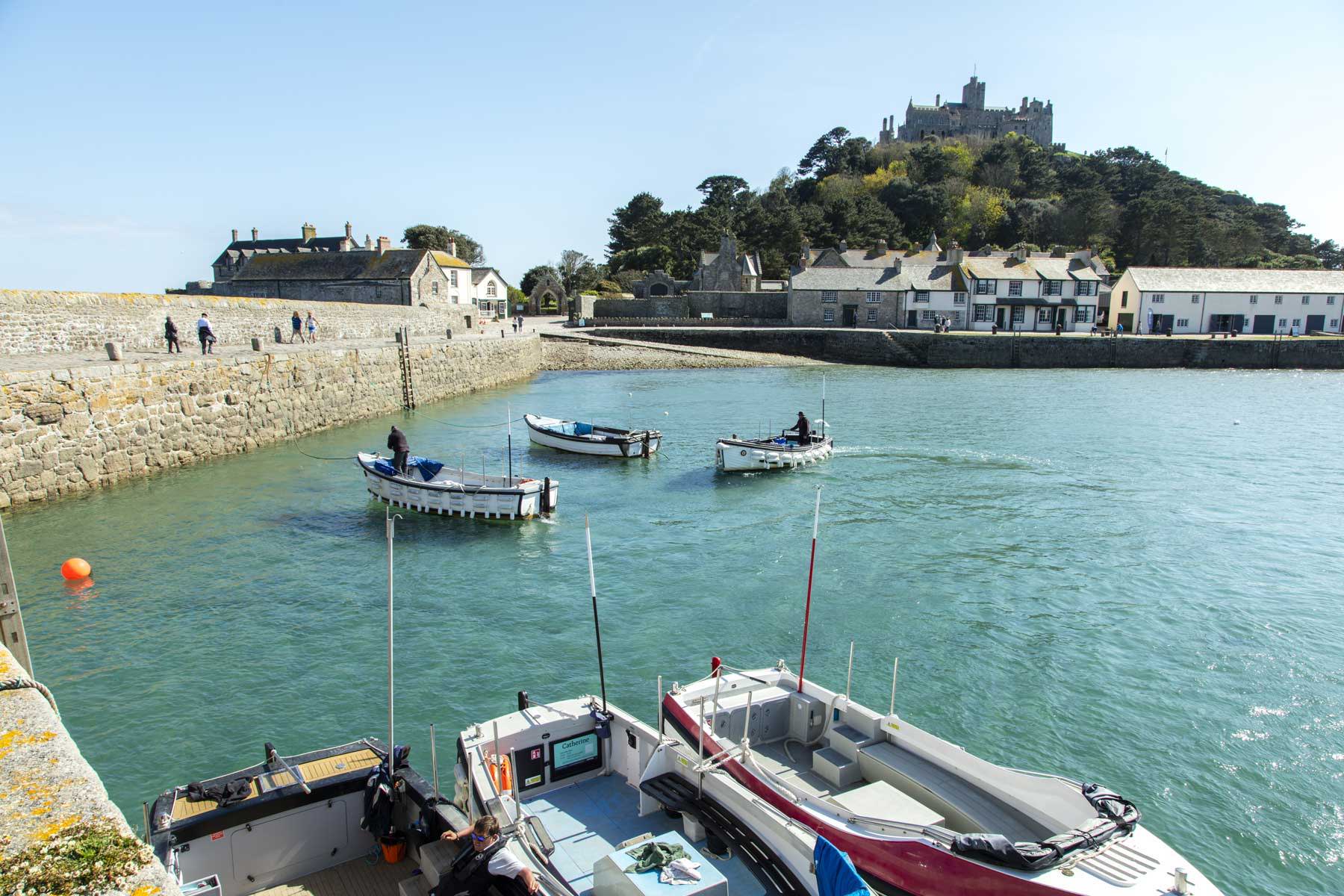 St Michael's Mount. Credit: Matt Jessop / Visitcornwall.com
The Minack Theatre. Credit: visitcornwall.com
Seas as turquoise as the Caribbean demand your attention in Porthcurno in West Cornwall, and there's an extraordinary outdoor theatre here that a woman carved out of the cliff in the 1930s. Book a moonlit performance or pay a daytime visit to steal the show yourselves on the granite stage. If you can linger longer, there's also a fascinating telegraph museum called the PK Porthcurno. Though secret messaging under the sea might sound like something from a kid's adventure story, this is no fiction – it happened right here on this beach.
Go wild on the North Coast of Cornwall
Follow the Rock Pipit birdies down to the café at Chapel Porth near St Agnes, then head along the path to the ghostly shell of a tin mine's engine house perched on the cliff edge. Overload your camera roll then stand on the grating, listen to the sea's murmur, and peer in to imagine what heading down there to work was like generations of Cornishmen ago.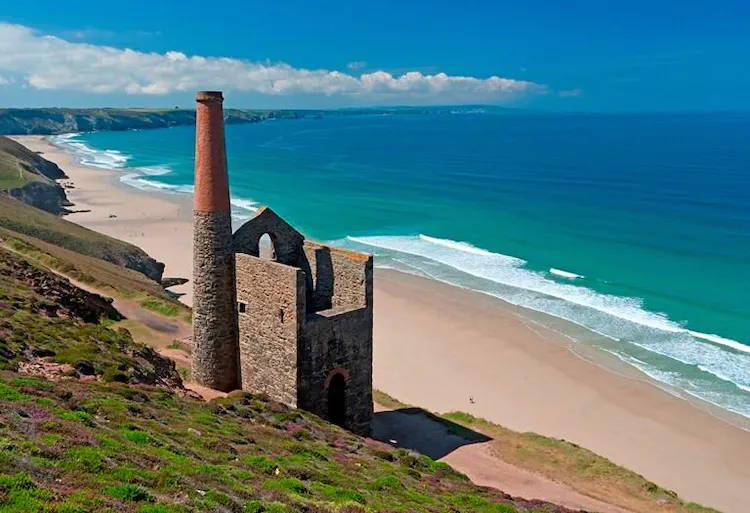 Tin Mine Engine House. Credit: visitcornwall.com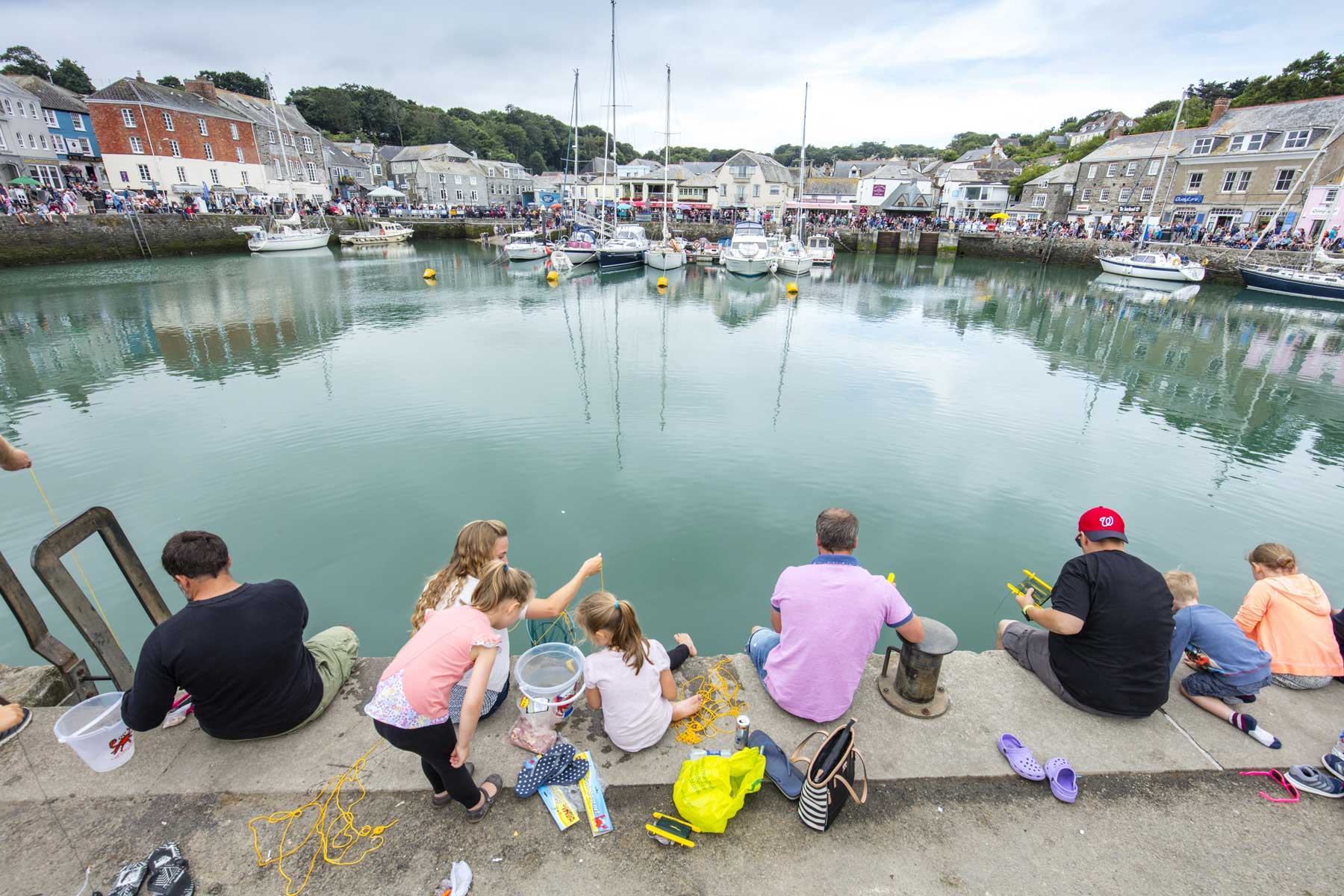 Padstow. Credit: Matt Jessop / visitcornwall.com
The best way to arrive in Padstow is on two wheels. Check out some nifty sustainable surf boards before you board the bike at Wadebridge, then follow the 5.5 miles of the family-friendly Camel Trail to Padstow's harbour, maze of fishermen's cottages, and dazzling sands. Enjoy Rick Stein's posh-nosh fish and chips, then take passenger ferry over the to Rock. And just up the estuary there's surfy Polzeath where you might see The Wave Project in action: a charity helping those in need reap the wellbeing benefits of the sea.
If Cornwall was a song it'd be a rousing shanty. Head to Port Isaac's harbour – known as the Platt – to tap a toe, swing a piratey arm and break into song because this pretty fishing village is the home of the Fishermen's Friends (watch the movie!). Before you leave Cornwall (sob!), be sure to make time for Tintagel: Merlin's Cave, a daredevil's footbridge, and a daydream about the history-mystery of King Arthur is all part of the allure of the castle on the cliffs.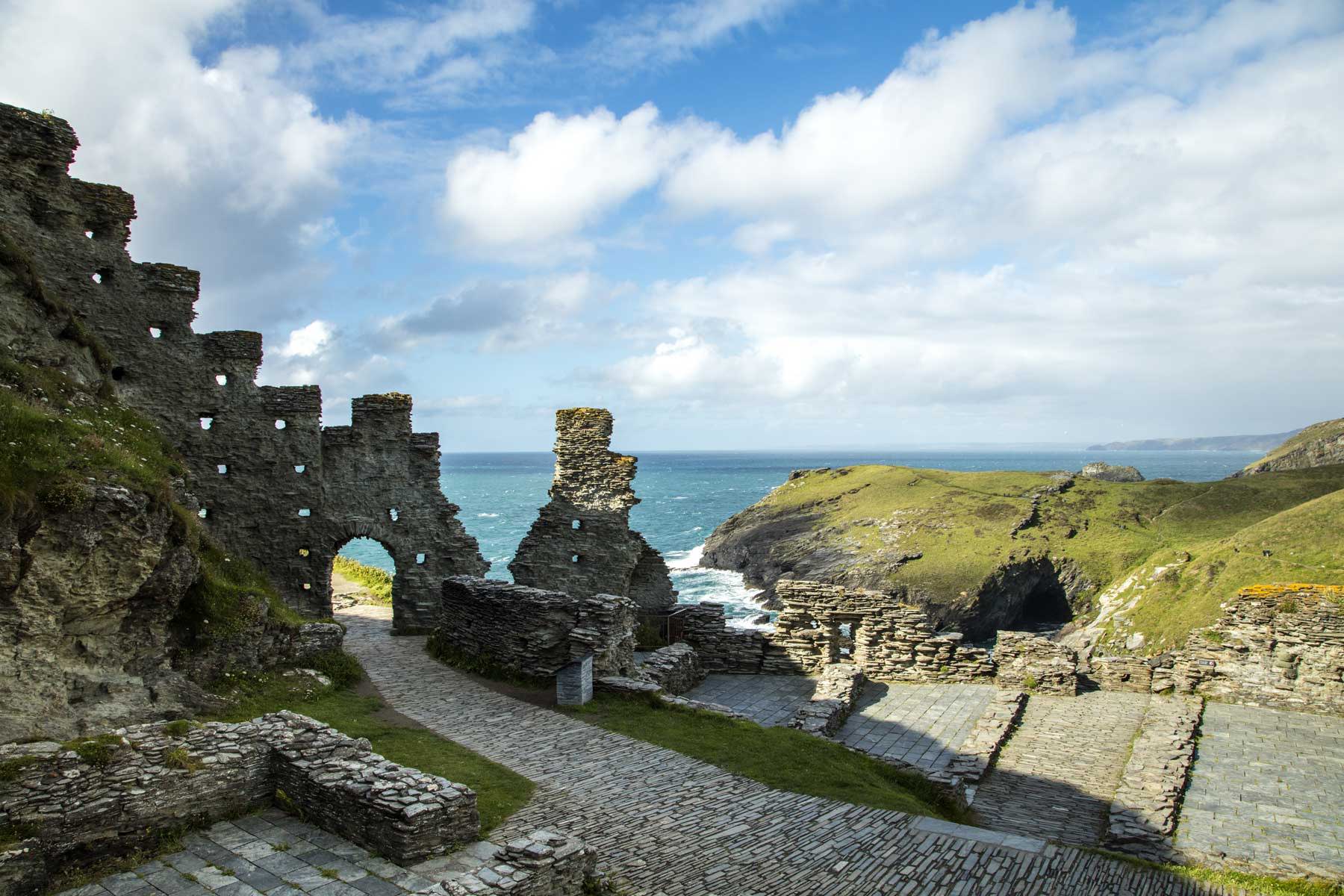 Tintagel Castle. Credit: visitcornwall.com
Taking care of yourselves - and nature - on Cornwall's Beaches
Know your lifeguard flags? Confident you'd spot a riptide? The good news is that the RNLI provides some really helpful – potentially lifesaving – tips on beach safety to read before you go. Keep an eye on tide times, for example.
Make sure nature comes up smiling too by respecting and caring for the flora and fauna you encounter en route. Whether you're in the dunes, rockpooling, or out at sea, the Cornwall Wildlife Trust is a great source of information including a wealth of ideas should your little ones feel inspired to become coastal crusaders.    
If Cornwall could talk, it'd ask you not to bring polystyrene bodyboards or disposable beach barbecues, harmful to beachgoers and to the ocean too. Leave no trace; and most importantly eat (plenty of) local ice cream in cones – no plastic waste!